I'm sure we've all heard horror stories about pressure cookers exploding and leaving people with serious injuries. But is this still true for the modern electric pressure cooker? Are these kitchen appliances really safe to use, or should you stay away from them altogether?
In this article, I'll explore whether electric pressure cookers are actually as dangerous as they're made out to be – and if not, how can you make the most of one in your own kitchen.
First up, let's take a look at what an electric pressure cooker actually is. This device works by trapping steam inside it while it cooks food quickly under high temperatures and pressures. Though initially intimidating, many home cooks have found that when used correctly, electric pressure cookers can be incredibly useful tools for creating delicious meals easily and efficiently.
What Is An Electric Pressure Cooker?
I'm sure you've heard of electric pressure cookers and maybe even seen one, but do you know what they actually are?
Electric pressure cookers are an appliance that uses the power of steam to quickly cook food. They work by trapping steam inside a sealed pot, which creates high pressure and increases cooking temperatures beyond those found with traditional stovetop methods. This allows for faster cooking times while still preserving moisture in the food.
Electric pressure cookers have different levels of pressure which can change how your food is cooked. For example, some recipes require higher pressures than others so it's important to adjust the cooker accordingly.
The amount of time saved using this method varies depending on the recipe, but most dishes that would normally take over an hour to prepare can be ready in less than half that time when using an electric pressure cooker.
One great feature about electric pressure cookers is their ability to hold heat once the cooking cycle has completed. That means if dinner isn't quite ready yet or someone runs late, you don't need to worry about food going cold as it will stay warm until everyone arrives!
Benefits Of An Electric Pressure Cooker
I love my electric pressure cooker! It saves me so much time in the kitchen and I know my food is cooked safely.
I also don't have to worry about losing any of the nutrients and vitamins because of the high pressure that the cooker uses to cook the food quickly. It's a great way to prepare healthy meals while also saving time.
I feel much safer using it than I did with my regular stove top pressure cooker. I'm always confident that the food I'm eating is cooked properly and the nutrients are retained.
It's an amazing kitchen appliance that I highly recommend!
Time Saving
Using an electric pressure cooker is a great way to save time in the kitchen.
I love that it cooks food up to 70% faster than traditional methods, so dinner can be on the table quickly!
It's also more energy efficient than other cooking methods, helping me save money on electricity bills while still getting delicious meals.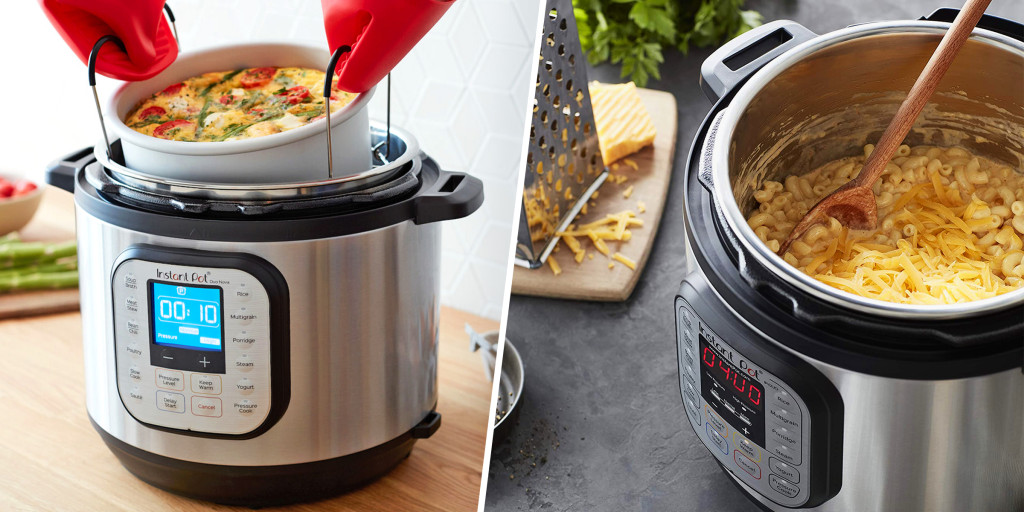 Plus, cost savings add up since less of my ingredients are lost during fast-cooking times – no more overpaying for wasted produce!
With all these benefits, it's clear why electric pressure cookers are such popular kitchen appliances.
They're a practical and convenient solution for busy families looking to get healthy home cooked meals without spending hours in the kitchen.
Nutrient Retention
The last benefit I want to touch on when it comes to electric pressure cookers is nutrient retention.
Since the food cooks quickly, less of its nutrients are lost in comparison to traditional methods.
This means that my diet quality and nutrient absorption can be higher than if I used other cooking techniques.
It's an effective way for me to ensure that I'm getting proper nutrition from my meals even if time constraints prevent me from spending extended periods of preparation.
Plus, since I don't have to worry about losing vitamins or minerals due to over-cooking, I can enjoy every bite knowing that each meal has been cooked with care.
Safety
Safety is an important factor to consider when it comes to any cooking technique. Electric pressure cookers are no exception and they come with certain safety standards that help make sure I'm not taking unnecessary risks when preparing meals.
All modern electric pressure cookers have built-in safety features like automatic shut offs, locking lids, and heat sensors which provide extra protection while the food is being cooked. This means I can feel secure in my knowledge that my meal will be cooked properly without causing me or anyone else harm.
Additionally, since these appliances don't require a lot of monitoring once the ingredients have been added, I can rest assured knowing that there's less chance for error compared to other cooking techniques.
Safety Features Of An Electric Pressure Cooker
I love using my electric pressure cooker to make delicious meals quickly and easily. It's such a time saver, but I also want to make sure it is safe too.
Thankfully, most electric pressure cookers come equipped with safety features that help ensure they are safe while in use. One of the main safety features of an electric pressure cooker is adjustable pressure settings. This allows me to control how much heat and pressure build up inside the pot which helps prevent food from overcooking or burning.
Most models also have temperature settings so I can set the internal temperature within a certain range for optimal cooking results. The lid on an electric pressure cooker will often lock shut when in use, preventing any steam from escaping until all of the built-up pressure has been released.
Additionally, many models feature a safety valve which releases any excess steam if the internal temperatures get too high, helping protect both you and your kitchen from dangerous accidents caused by overheating. Electric pressure cookers provide a great way to prepare delicious meals without worrying about their safety – thanks to these helpful features!
Using An Electric Pressure Cooker Safely
When it comes to using an electric pressure cooker safely, it's important to choose the right one for your needs.
Make sure to properly prep the food by reading the instructions and following the directions carefully. I always make sure to double-check the ingredients and cut vegetables into uniform pieces before I start cooking.
Following the instructions on the pressure cooker is key to a safe and successful cooking experience. It's important to understand the safety features and how they work to prevent any potential accidents.
I always make sure that the lid is securely closed before I press the start button. Lastly, I pay attention to the pressure and use the release valve when needed.
Choosing The Right Cooker
Choosing the right electric pressure cooker for your home can be a daunting task. But it doesn't have to be! With energy efficiency and cooking times in mind, you can make an informed decision that will benefit both your wallet and taste buds alike.
When buying an electric pressure cooker, consider its capacity – this is measured by quarts or liters depending on where you live. A larger size means more food cooked at once, while a smaller one may not fit as much but takes up less space on the countertop.
Additionally, look into how long it takes to cook food: some models take longer than others due to their design features.
Finally, think about energy use: opting for a model with insulation around the pot's walls helps retain heat better and keeps electricity costs lower over time.
Making sure you are getting the most out of your purchase is essential when selecting an electric pressure cooker – so do your research before making a commitment!
Prepping Food
Once you've chosen the right electric pressure cooker for your home, it's time to start prepping!
Meal planning is key when using this appliance: decide how much food you want to cook and plan out cooking times accordingly. This ensures that everything comes out perfectly cooked without any guesswork on your part.


It also helps conserve electricity since you're not having to run multiple cycles in a row if something takes too long or doesn't cook all the way through.
Additionally, make sure you're properly measuring ingredients each time as overfilling can cause issues with the machine during operation.
With careful meal planning and proper measurements, you'll have delicious meals done in no time!
Following Instructions
Following instructions is an important part of using an electric pressure cooker safely.
Make sure you read the user manual carefully and follow all safety guidelines, such as never opening the lid while it's still under pressure.
Additionally, always measure your ingredients accurately so you don't overfill or damage the machine.
And once your food has been cooked make sure to store remaining leftovers properly in air-tight containers to ensure the best quality for later consumption.
With these simple steps, you'll be able to enjoy delicious meals that are both safe and tasty!
Common Misconceptions About Electric Pressure Cookers
When I first heard about electric pressure cookers, I was a bit hesitant. All the stories of exploding pots and uncontrollable noises made me wary of using one in my own kitchen. But after doing some research and learning more about the safety features modern cookers have, I'm now convinced that they are incredibly safe to use.
One common misconception is that cooking times with an electric pressure cooker are much longer than traditional methods. In reality, these devices can reduce your overall cooking time by up to 70%! This means you'll be able to feed your family faster while still getting delicious meals every single day.
Another myth is that noise levels will be through the roof when using an electric pressure cooker. While there may be a slight humming sound when the device reaches full pressure or begins depressurizing, it's nothing compared to other appliances like blenders or mixers – meaning it won't drown out conversation at dinner time.
With all these safety features built-in, along with their convenience and speed, it's no wonder why so many people love using electric pressure cookers in their kitchens today!
Frequently Asked Questions
What Is The Difference Between An Electric Pressure Cooker And A Stovetop Pressure Cooker?
When it comes to electric pressure cookers vs. stovetop pressure cookers, there are some key differences.
Electric pressure cookers provide a wider selection of dishes than traditional stovetop models since they have multiple settings and pre-programmed options.
This means that you can prepare everything from soups and stews to cakes and desserts in one appliance.
Plus, the cooking time is usually faster with an electric model – allowing you to get dinner on the table quicker!
How Long Does It Take To Cook Food In An Electric Pressure Cooker?
Cooking with an electric pressure cooker is a great way to make delicious meals quickly and easily. You can get dinner on the table in much less time than it would take using traditional cooking methods, which is especially nice if you're short on time.
Cooking times vary depending on what you are making, but generally speaking most foods will cook faster in an electric pressure cooker than they would otherwise. For example, some meats that normally require hours of simmering can be cooked in just minutes when using an electric pressure cooker.
While safety concerns should always be taken into consideration when using any kitchen appliance, these devices are designed specifically for safe use, so as long as you follow the instructions provided by the manufacturer there shouldn't be any issues.
Is It Possible To Overcook Food In An Electric Pressure Cooker?
Yes, it is possible to overcook food in an electric pressure cooker.
This can happen if you don't follow the cooking times specified by your recipe or appliance manual.
If you leave food in the pressure cooker for too long, it will become dry and unappetizing.
Safety concerns are also a factor here: if you try to increase the cooking time beyond what's recommended, there's a risk that your electric pressure cooker could explode due to excessive steam buildup.
It's best to be mindful of the cooking times when using an electric pressure cooker to avoid over-cooking or any other safety hazards.
How Often Should An Electric Pressure Cooker Be Cleaned And Maintained?
Cleaning and maintaining your electric pressure cooker is an important part of keeping it in good working order. To ensure the highest levels of food safety, you should clean and maintain your electric pressure cooker at least once a month.
When cleaning, be sure to pay special attention to areas such as cooking temperatures and other parts that come into contact with food. You'll also want to make sure all seals are properly lubricated so they don't become brittle or cracked over time.
Additionally, checking regularly for signs of wear and tear can help extend the life of your appliance by ensuring proper functioning of its components.
Are Electric Pressure Cookers Suitable For All Types Of Cooking?
Yes, electric pressure cookers are suitable for all types of cooking.
Most models follow safety regulations and have adjustable settings that can be used to customize the cooking times depending on what type of food you are preparing.
They also come with instructions outlining how long each type of food should be cooked in order to ensure it is safe to eat.
With an electric pressure cooker, you'll never have a problem getting your meals prepared fast and safely!
Conclusion
It is clear that electric pressure cookers provide a safe, efficient way of cooking food.
They can significantly reduce the amount of time it takes to prepare meals and are suitable for all types of cooking.
With proper maintenance and cleaning, electric pressure cookers should last for many years without any problems.
I would definitely recommend investing in an electric pressure cooker if you want fast, convenient, and delicious meals every day!